Source: 1966 Magazine
Growing up Disney might of had us all thinking we had to be princesses in order for our dreams to come true; as well as, enjoy a classic "happily ever after." However, you can live the dream with your very own Prince Charming! Today, we are going to drop the fairytale bomb on how to find a 3 Stone Engagement Ring that looks enchantingly like Meghan Markles! Plus, we'll do you one better… we'll also share how you can virtually try it on.
Seriously… like no lie. The now famous Trilogy engagement ring look as seen on the "American Princess" is up for grabs. Furthermore, if this is the type of style ring you love you may want to act fast to get your hands on; or shall we say, one slipped on your finger, in a hurry!
ashion reports are already predicting that Meghan's wedding dress of choice will fly off racks globally. Not convinced the same will be true of her ring style? Well, the fact that in 2016 Ms. Markle was the most Googled Actress, proves that searchers want to know what Meghan is doing and wearing… at all times.
So then, are you in? Oh, yeah we thought you might be a bit curious. In that case, scroll on to get all the details on scoring a gorgeous ring inspired by a modern royal-to-be!
With the Royal Wedding approaching (and surely giving all the engagement fever feels) consider getting your own version with the help of Sparkly – the hub for all things engagement rings. Especially, creations inspired by Megan Markle's amazing 3 stone engagement breathtaker.
Would you like to see an example? First, we will show you Meghan's engagement ring.
Now as you may know, when it comes Markles's stunner, the middle stone was selected by Prince Harry himself. The large center jewel is from Botswana, a region that both Markle and Harry have performed volunteer work. The two side stones were apart of his late mother, Princess Diana, personal collection.
Alright, now here is a sparkler featured by Sparkly, that takes its design inspiration from Markle.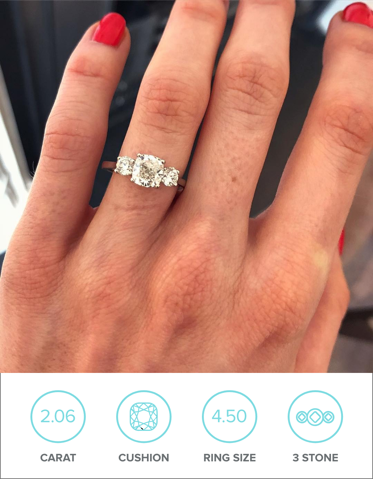 Amazing right? Nonetheless, you may be wondering who or what exactly is Sparkly? Sparkly is the new hotspot for all things engagement rings. On the Sparkly platform, brides and brides-to-be can browse thousands of engagement ring selfies, from thousands of real people—with all the details—so you can see how different diamond ring styles will look on a hand just like yours.
With Sparkly you can search and filter real ring selfies to see what a 1.3 carat diamond really looks like on your size ring finger, and discover the kind of ring you'll love forever. Find your ringspiration. For more information, please visit: http://www.mysparkly.com/