After showing off your engagement ring for the last few months, you're probably starting to think about what you want your wedding band to look like. The wedding band, after all, signifies your actual marriage, plus you're going to be wearing it every day for the rest of your life so you better love it. But it could be tough to figure out which wedding band best complements your engagement ring. Truth be told, there are no hard-fast rules. But, after looking at thousands of ring selfies, there are some combos that have stood out to us—and we're here to share them with you. Whether you want to keep it subtle or make a statement, we've got your tips on finding the wedding band yin to your engagement band yang.
---
Solitaire
As far as solitaire styles go, you've got options. Because it's so simple in design, it's also the most adaptable to pretty much whatever you want. We've seen solitaires paired with everything from matchy matchy to mixed metals to multiple layers. Like we said, there are no rules. But here are some tried-and-true combos and why we think they work.
When you stack 'em up just right (think varying textures and shapes) you get this glittering eye-catching effect that manages to make the main stone pop even more.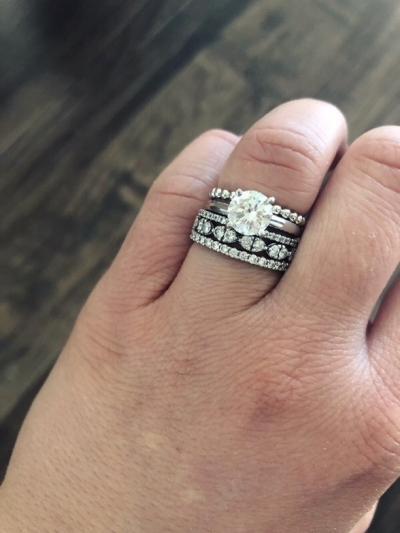 ---
Simple is another way to go. As you can see, a solitaire and a minimalist band is a timeless classic for a reason.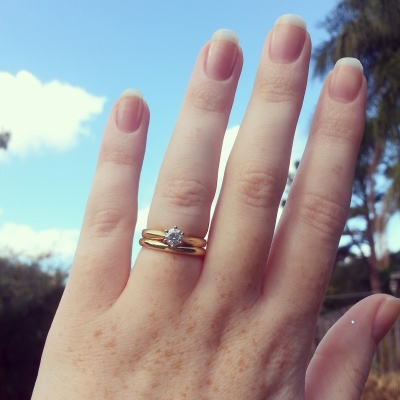 ---
Make your ring finger look elegant and dainty with a petite pave band…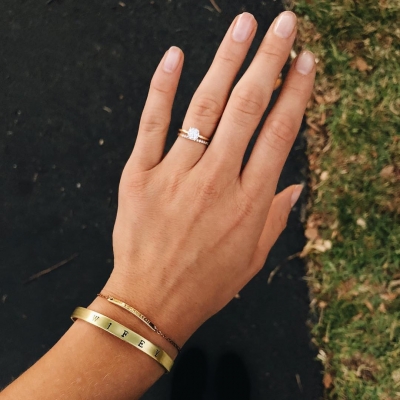 ---
or go big, like this emerald cut eternity band.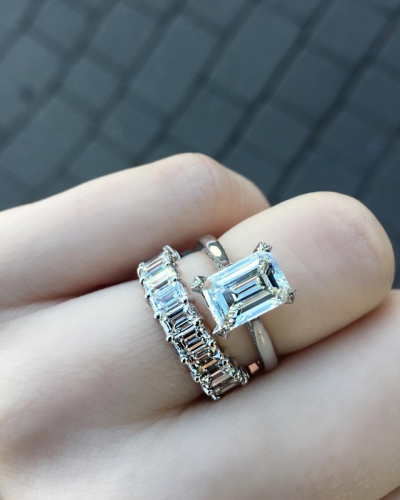 ---
Halo
Here's the thing about halos: They're already framed. Your center stone is the shining star that's highlighted by the smaller stones that surround it. And that's great. But when it comes to picking out a wedding band, look for something that compliments it rather than take away its glittering glory.
---
One way to do that is with a ring enhancer. It creates the illusion that you're wearing a band on top and underneath your engagement ring and is designed to work with your existing ring.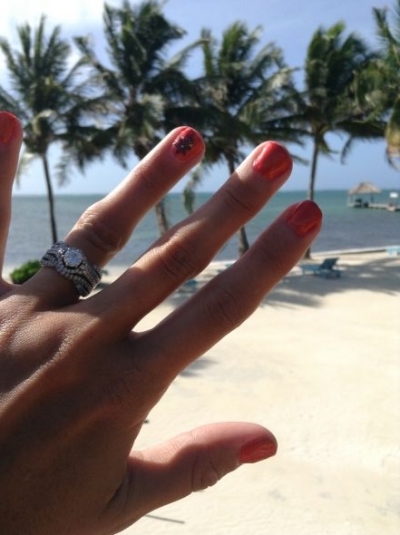 ---
Another way to seamlessly merge your engagement ring with your wedding band is to match the band by using similar stones you see in your setting. This is often something you can work with your jeweler to achieve.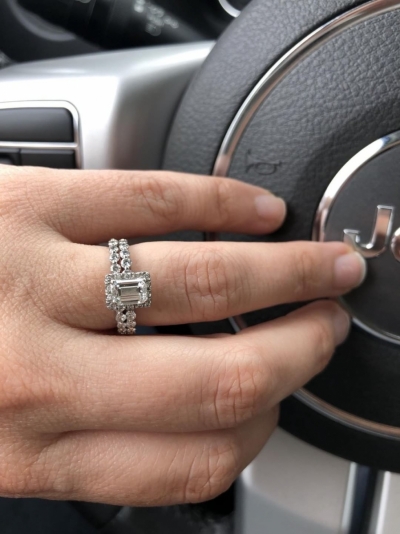 ---
A curved or notched band keeps your main stone as the standout and sits flush with the surrounding stones so there's no gap between the rings.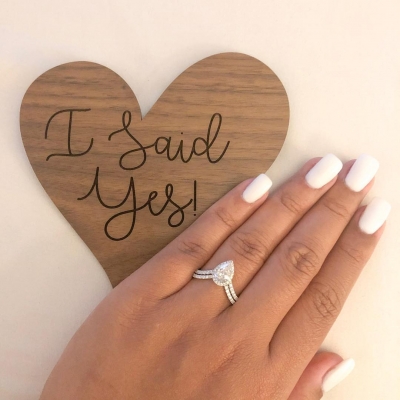 ---
A pavé or band of smaller diamonds could also work, as demonstrated by these glorious ring pairs.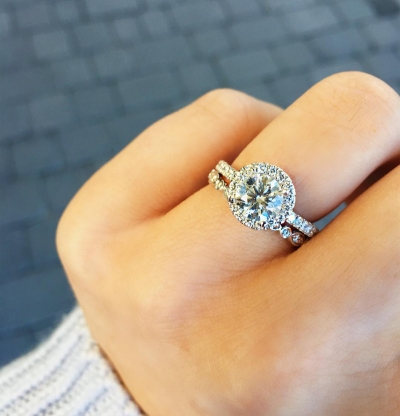 ---
Or, keep your halo the star by choosing a simple classic band like this one…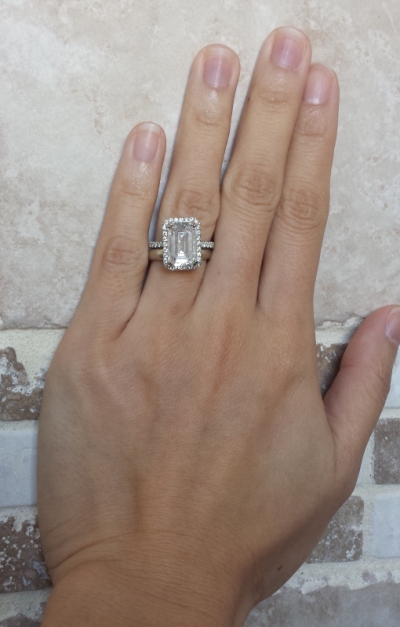 ---
Three Stone
Another popular setting is the three stone engagement ring. Often lauded for its sweet symbolism of a couple's past, present and future, the sentiment alone is enough to be smitten. We're also fans of more bling in general. But how do you pick a wedding band that works with all its dips and grooves?
---
A chevron on a three stone looks great since it dips down and gives space to the center stone while still nicely underscoring the two side stones.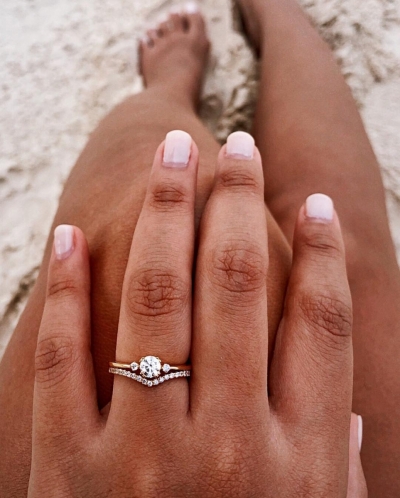 ---
A chunky stack of rings works well too. The perfectly imperfect gaps and extra dimensions make the combo look edgy and contemporary.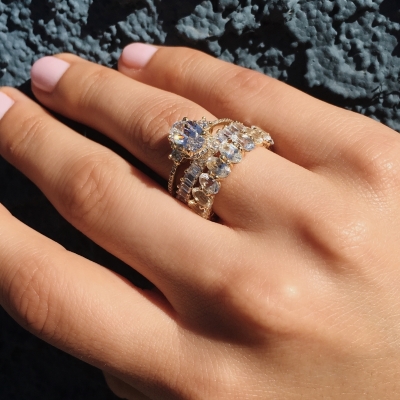 ---
A pavé band adds extra sparkle and tbh pretty much works with any setting, but we're loving the union of this chunky three-stone with this thin pavé band.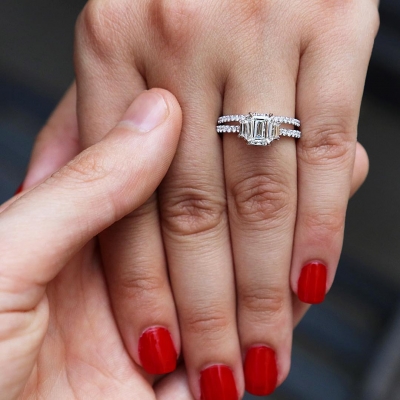 If you're looking for more inspiration, head to our feed and toggle to "yes" under Show Wedding Bands.