The Biggest Engagement Ring Trends of 2019
Source: Broadsheet
Despite being considered a purchase that will last a lifetime, like anything, engagement rings are not immune to trends. Here are four cuts on the rise for discerning buyers.
Two- and three-stone rings
You can thank model and actress Emily Ratajkowski for the two-stone ring style that will dominate next year. The internet was abuzz when she debuted her yellow-gold ring, which featured both a princess cut (a square or rectangular stone with four beveled sides) and a pear-shape diamond (shaped like a tear) set side by side. This design is not only beautiful but adds more sparkle without breaking the bank: two smaller stones will always be less expensive than one larger stone of the same quality, even if the total is the same carat weight. This is also true of three-stone rings, made popular by the classic but personal engagement ring Prince Harry proposed to Meghan Markle with. It involved a cushion-cut centre stone flanked on either side by a round-cut diamond belonging to the personal collection of his late mother, Princess Diana. Three-stone rings were hugely popular in 2018 and you can expect to see the trend continue well into next year.
Full story here.
---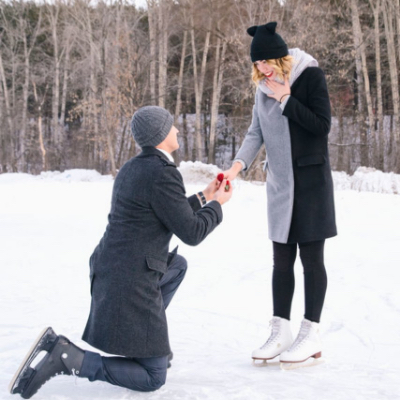 12 Holiday Proposal Ideas That Will Guarantee a YES!
Source: Brides
Oh, the holidays! Full of merriment, families, decorations, and plenty of proposals. If the most wonderful time of the year doubles as your idea of the best moment to pull out a ring, you're not alone. It's the most popular season to get engaged. That also means creativity is of the utmost importance, since well, a holiday engagement is the theme of many a rom-com. There's always the box within a box idea—watch the Christmas classic Serendipity for inspo—but likely, you want something your future spouse hasn't seen before that also stays true to your own traditions. That means no cheesy romantic gestures like the cue cards from Love Actually or getting down on one knee by the fireplace with chocolate-covered strawberries and Champagne. To help you take it up a notch, here are 12 ways to propose this holiday season...
Full story here.
---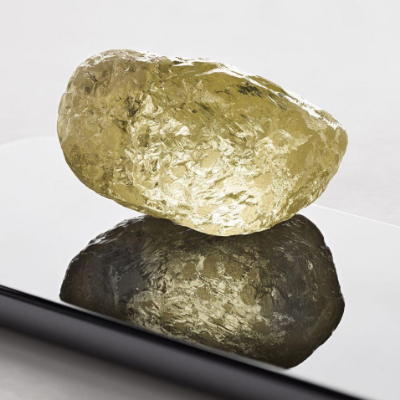 This 552-Carat Yellow Diamond Is The Largest Ever Found In North America
Source: Forbes
Finding exceptionally large diamonds is rare. Finding extra large diamonds in fancy colors is even more rare. As such, the announcement by Dominion Diamond Mines that it has unearthed the largest known diamond ever found in North America is big news. Found in October at the Diavik Diamond Mine in Calgary, Canada, the Canadamark(TM) yellow diamond weighs in at 552 carats and beats the previous record (held by the Diavik Foxfire diamond) of 187.7 carats that was also found at the same mine.
Full story here.
---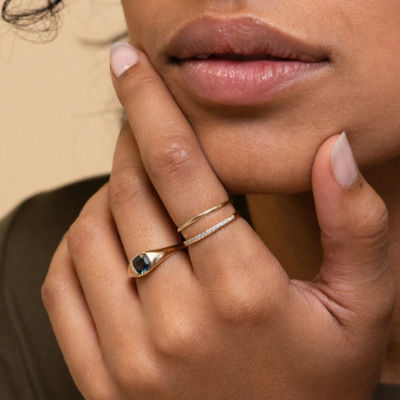 19 Timeless Pieces of Diamond Jewelry to Gift This Year — For Every Budget
Source: Business Insider
Diamonds are not a trend. Unlike many gifts that see their seasons of use and find their way to the donation pile, diamonds are meant to be kept forever. From one person to another, they're a lasting symbol of sentimentality, reverence, and elegance.
And, thanks to the burgeoning jewelry startup market, gifting a meaningful luxury is no longer restricted to those who have thousands of dollars to spend, though the options for those who do are better than ever.
But before you buy, there are some tips to note: Necklaces and earrings a great gift, and especially so for newer relationships or those shoppers unsure about ring size. If you're unclear on what her metal or color preference is, check what she wears every day or keeps in her jewelry box (most people stick to one metal family once they find what works with their skin tone). When in doubt, ask a mutual friend or customer service representative for help.
Full story here.
---
Are Pinky Rings Trending? We Say Yes
Source: Brit+Co
There are two types of people in this world. You either pile on the cocktail rings or opt for subtle everyday bling. Tell all your girlfriends, 'cuz small (but mighty) pinky rings are here to stay. From fête-worthy baubles to refined stacks, your unassuming fifth digit will never go unadorned again.
Full story here.