Source: Martha Stewart Weddings
Everything You Need to Know About Financing an Engagement Ring
An engagement ring is often one of the most meaningful purchases in a lifetime, but it also can be one of the most expensive. Don't let the stress of paying for the engagement ring let you forget about the meaning behind it. If you can't afford to pay for the entire ring in one go (which is pretty common!), know that you have options. Here, two jewelers offer tips on how to finance that important diamond ring.
Before you do anything else, set a budget.
Jewelry designer Liza Shtromberg knows that finances can be a huge stressor for clients, and the overall budget is one of the biggest deciding factors in choosing a ring. "I usually recommend that clients create a budget, either individually if the proposal is a surprise or as a couple if they're selecting a ring together, so that they know which rings are realistic options," she explains. Do this early, she urges, as it's a good idea to go into your first appointment with a jeweler with a general price range in mind. By knowing what you can afford to spend, the pros will be able to show you options that you can seriously consider.
Start shopping early.
Engagement rings are an investment, and like any other big-ticket purchase, you'll want to give yourself time to save. That's why Bri Hartgers of Hartgers Jewelers says it's important to start putting aside funds before you shop, and then shopping a few months before you'd like to propose. This ensures you have time to save up, but also allows for some breathing room between the big purchase and the actual proposal. "I typically find that most people start saving about three to six months before they plan on popping the question," she says. "That way when they come in to start looking at diamonds they feel much more relaxed and comfortable with their budget."
Full story here.
---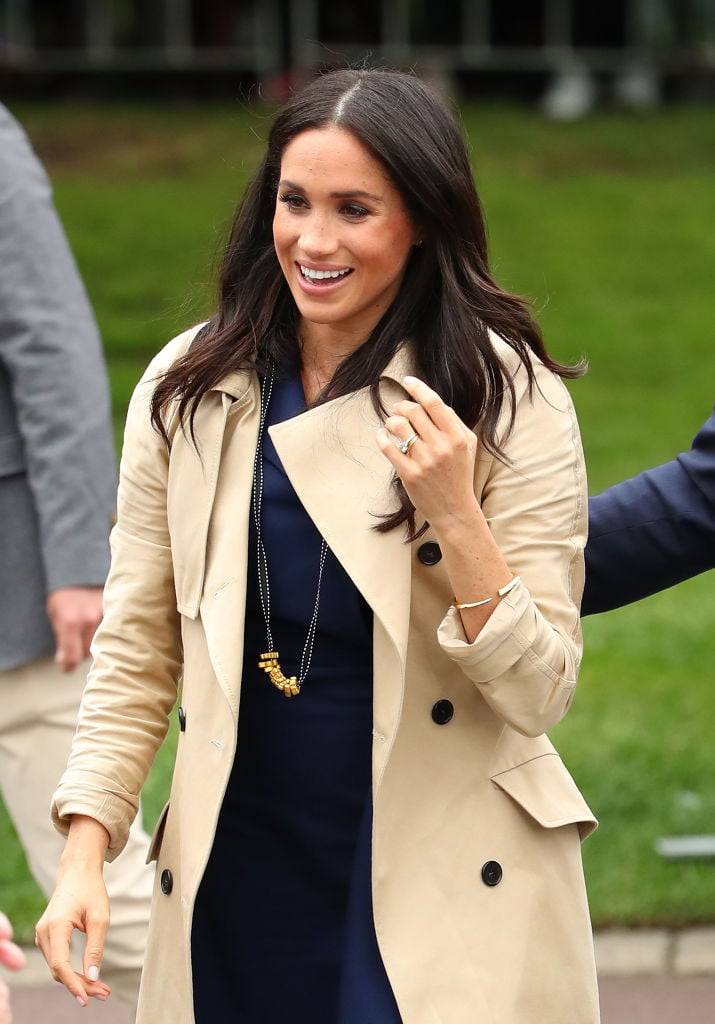 Source: CheatSheet
How Much Did Meghan Markle's Engagement Ring Cost?
One thing that was hard to miss during Prince Harry and Meghan Markle's engagement announcement was Meghan's beautiful engagement ring. The large diamonds sat perfectly on Meghan's hand as she glowed with happiness. How much did Meghan Markle's engagement ring cost? Here's what we know about the ring Prince Harry gave her.
How Prince Harry proposed to Meghan Markle
Prince Harry proposed to Meghan Markle when they were at their cottage. In the couple's engagement interview with BBC, they told the interviewer they were just enjoying a typical night at home, roasting chicken. "It was] just an amazing surprise; it was so sweet and natural and very romantic. He got on one knee," said Meghan.
Meghan Markle's engagement ring
Prince Harry chose only the finest materials for his bride-to-be's engagement ring. The beautiful piece was crafted by British jewelers Cleave and Company, the jewelers for Queen Elizabeth, reports People.
"The ring is obviously yellow gold because that's [Meghan's] favorite and the main stone itself I sourced from Botswana and the little diamonds on either side are from [Princess Diana's] jewelry collection, to make sure that she's with us on this crazy journey together," Prince Harry said during the couple's BBC interview. "It's beautiful, and he designed it. It's incredible," added Meghan.
Full story here.
---

Source: Brides
A Viral Engagement Ring Shaming Post Is Stirring Up Controversy on Reddit
What would you do if you found the engagement ring your significant other was planning to propose with and absolutely hated it? Well, according to the Internet, the one thing you should absolutely *not* do is share a photo of it to Facebook complaining about it.
One woman did just that earlier this week and another online community was not here for it. "Ewwwww," the woman wrote in a "ring shaming" Facebook group (yes, those exist) alongside a photo of the ring. "Self shame Friday here I come. Found this in the BF's nightstand. Not a fan. Please roast and then tell me how to tactfully say no you need to go get something different."
According to Today, one user of the group apparently then shared a screenshot of the original post to Reddit, where commenters went in on the anonymous woman who initially posted about it. "This is the saddest thing I've seen on this sub. It's one thing when it's a total stranger, but when someone that's supposed to love you unconditionally acts like a grifter it's just plain sad," one user commented. "I hope he sees this, and then RUNS. To post this degrading sh*t to social media to first insult it, and then ask for ways to get something better from someone she supposedly loves just defies what this ring should really be about and proves she doesn't even deserve a ring out of a dollar vending machine. This poor, poor man."
Full story here.