Hilary Duff Announces Her Engagement to Matthew Koma With a Giant Diamond Ring Shot
Source: Elle
Hilary Duff is engaged to her boyfriend Matthew Koma. The actress just announced the news with a stunning shot of the two of them and the pretty diamond ring he gave her. "He asked me to be his wife <3," she wrote. And she said yes. (He posted an identical shot, captioning it, "I asked my best friend to marry me… @hilaryduff.")
Duff and Koma have one child together, their six-month-old daughter Banks. The two were first rumored to be dating in early 2017, People reports, although they didn't truly get back and stay together until the fall of that year. In June 2018, Duff announced her pregnancywith Koma's daughter. Banks was born at the end of October.
Full story here.
---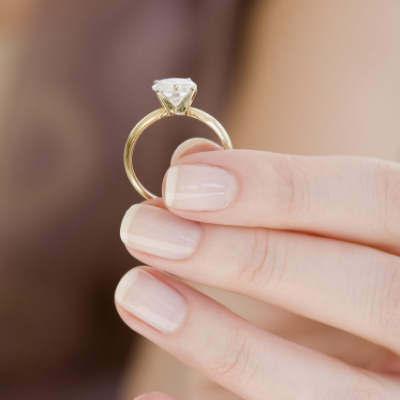 6 Real Women Share How and Why They "Returned" Their Engagement Ring for the Ring of Their Dreams
Source: Brides
An engagement ring is something that quickly becomes your prized possession, one that you're eager to show people but less eager to ever take off. It's something that you're thought long and hard about, secretly trying on rings and figuring out the shape of diamond that fits your hand and your style the best.
Which can make the whole proposal moment get a bit awkward when you pop open the ring box and fix your eyes on a ring that's anything but the one you ever dreamed about getting. Breaking the news to your fiancé can be hard. Which leaves you with the decision of staying quiet and wearing a ring you don't love or speaking up and trading in the ring you were given for the one of your dreams.
Here's what happened to these six real women who returned their engagement rings for one that sparkled and shined like all the other ones they pinned on their Pinterest board for years.
Full story here.
---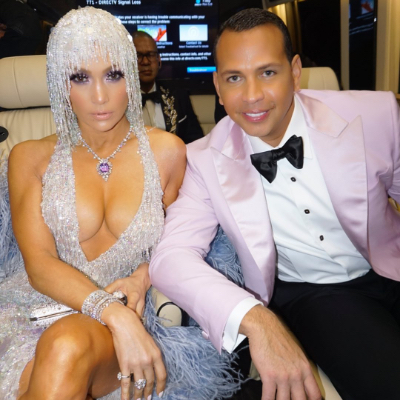 Jennifer Lopez Shows Off Her Engagement Ring At The Met Gala Alongside Fiancé Alex Rodriguez
Source: Access
Two years after their Met Gala debut, Jennifer Lopez and Alex Rodriguez are once again back for more – and this time, they have an engagement to celebrate!
The "Hustlers" actress and her newly minted fiancé hit the pink carpet in glamorous fashion on Monday night. While A-Rod wore a lilac tuxedo jacket, his bride-to-be wowed in a silver fringe Versace dress that featured a plunging neckline, as well as a dramatic pop of leg.
When it came to accessorizing, JLo upped the opulence even further. The "El Anillo" singer wore Harry Winston's "Purple Dragon Necklace," set with a stunning 65.32 carat lavender sapphire. She also donned a glittering headpiece, vintage diamond chandelier earrings, along with several diamond bracelets and rings.
Full story here.
---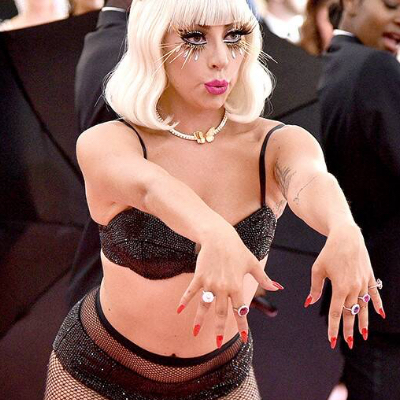 Lady Gaga Wears Nearly $2 Million Worth of Jewelry on the 2019 Met Gala Red Carpet
Source: E! Online
Everyone else can go home now because Lady Gaga just shut. things. down. at the 2019 Met Gala.
The Oscar winner had not one, not two, not three, but four costume changes on the red carpet alone. Gaga first arrived in a hot pink parachute dress designed by Brandon Maxwell that had to be carried by five different people. The handlers also carried umbrellas and danced around her as she posed and had the time of her life in front of the Metropolitan Museum of Art.
Gaga's outfits slowly got shorter and tighter as the moments went on and she ultimately ended up in a black glittery bra and underwear combo with fishnets and those same black combat boots she wore to the pre-Met Gala dinner and back in 2016. Sure, the 33-year-old stopped the show in her outfit change-ups, but she also had on some noteworthy accessories.
Before she and Maxwell ventured into the Met, Gaga removed some jewels from a black box and put them on. Two of them look strikingly familiar because they resemble her engagement rings given to her by Christian Carino and Taylor Kinney.
However, it turns out that Gaga was not in fact wearing her old jewels, but rather a number of Tiffany & Co. diamonds.
Full story here.