Here's How Much Tim Tebow Spent on His Fiancée's Engagement Ring
Source: E! News
Tim Tebow spent a nice chunk of change on Demi-Leigh Nel-Peters' engagement ring.
Andrew Brown, president of WP Diamonds, suspected the athlete "sprung for the best diamond out there" for his fiancée and went with "an internally flawless stone."
"This seven carat round solitaire would go for anywhere from $600,000 to $750,000 depending on the color grade," he told E! News.
The former football-turned-baseball player gave his followers a peek at the shiny new sparkler on Thursday when he announced the engagement.
Full story here.
---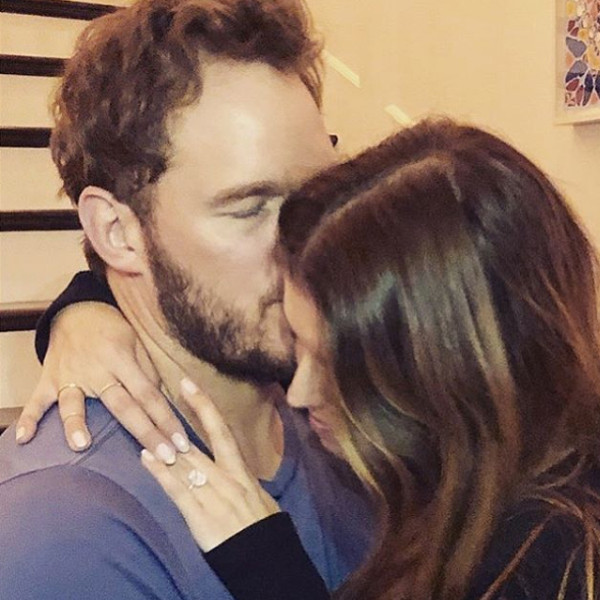 All the Details on Katherine Schwarzenegger's Engagement Ring From Chris Pratt
Source: E! News
Chris Pratt proposed to Katherine Schwarzenegger with a gorgeous diamond ring.
The Jurassic World star, 39, announced his engagement to his leading lady, 29, on social media Sunday evening. "Sweet Katherine, so happy you said yes! I'm thrilled to be marrying you," Pratt captioned a photo of the couple sharing an embrace after his proposal. "Proud to live boldly in faith with you. Here we go!"
Schwarzenegger later shared the same photo, with her diamond ring front and center, on her Instagram with the caption, "My sweet love. Wouldn't want to live this life with anyone but you."
And now E! News has learned more details about the author's new ring.
"The beautiful engagement ring Chris Pratt just used to propose to Katherine Schwarzenegger looks like a 5-carat cushion set in a Harry Winston-style micro pavé halo," Andrew Brown, President, WP Diamonds, tells E! News. "Assuming it is a high color-clarity combination, it would probably retail for $150-175k."
Full story here.
---
Colored Diamonds Expected to Shine in 2019
Source: Barron's
Colored diamonds, which have natural pink, blue, yellow, and other brilliant hues, will continue to be closely sought-after by collectors and investors in 2019, according to Russian diamond group Alrosa.
"Colored diamonds appreciate even in turbulent times against the backdrop of instability of the world economy," says Yuri Okoyemov, vice president at Alrosa, the world's largest diamond mining company by volume. "We expect fancy diamonds to become ever more popular investments in the near future."
Alrosa auctions colored diamonds twice a year. Last September, its "True Colours" auction in Hong Kong sold a total of US$9 million worth of colored diamonds.
Tracked by Knight Frank as one of 10 luxury investment assets along with jewelry in general, art, wine, watches, and cars, the value of colored diamonds has appreciated 70% in the last decade, or about 12% every year, according to The 2018 Knight Frank Luxury Investment Index.
Full story here.
---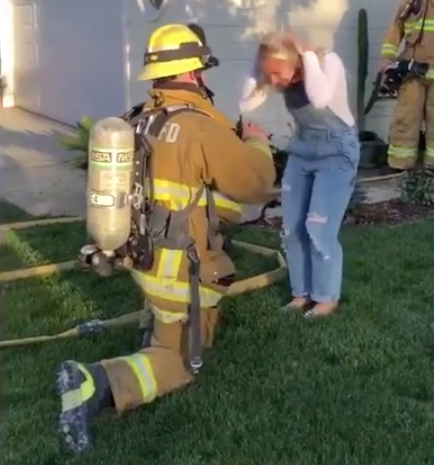 Firefighter Fakes Blaze At His Own House So He Can Propose To His Girlfriend
Source: Huffington Post
A woman in Ventura, California, had reason to be feeling a little hot under the collar when her firefighter boyfriend proposed marriage.
That's because he faked a blaze at their house to set the scene.
It happened back in November just as the couple was preparing to host a holiday party at the home they shared.
For some reason, Zach Steele, 30, thought it would be funny ― unbeknownst to Maddison Ridgik, also 30 ― to plant six remote-operated smoke machines in their attic before supposedly going out to pick up last-minute groceries.
"Originally I got one smoke machine," he told Inside Edition. "I went to test it and there was barely any smoke. One was not going to work, so I had to get more smoke machines."
He ended up going overboard with six, which caused a lot of smoke to spew out of the house, sending Ridgik into a justified panic.
Full story here.
---
This Is How Much the Average Couple Spent on an Engagement Ring in 2018
Source: Brides
While it's (unfortunately) a well-known fact that weddings are expensive—and according to Brides' American Wedding Study, they were even more expensive in 2018, as the average wedding cost skyrocketed to more than $44,000—it turns out that the road to saying "I Do" has also gotten more costly, namely the engagement ring.
Brides' study, which surveyed almost 850 brides-to-be or newly married women, found the average amount spent on engagement rings in 2018 was $7,829, compared to $5,023 spent in 2017. (It really puts the $500,000 price tag on Hailey Baldwin's ring or Cardi B AND Paris Hilton's $2 million engagement rings in perspective, huh?) And even more surprisingly, couples tend to spend much more on engagement rings than their actual wedding bands. AWS found that engagement rings in 2018 made up 14 percent of the overall wedding budget, whereas the wedding rings only composed 3 percent, with the average couple spending around $1,800 on their nuptial jewelry.
Full story here.