This whole getting engaged thing has been around since ancient Rome, so you'd think by now we'd have perfected it. Fall in love, buy ring, propose and marry. Sounds simple right? But like some of even the most loving, committed relationships—it's complicated! So, we've devoted this page entirely to getting down and dirty about diamonds. Read on for tips that will help you pick out the perfect bling!
Before getting into the nitty gritty, here are some things that Sparkly can help with right off the bat (click any of the links to learn more in detail).
---
Filtering
While other sites can help you find your perfect ring, Sparkly is in a category of its own when it comes to filters. For one, our results are exact. When looking for inspo on other sites (ahem, Pinterest) you might not get exact results based on your search. For example, a search for a 1.2 carat diamond will likely show 1 or 1 ½ carat results, whereas on Sparkly, if 1.2 carats is what you want, 1.2 carats is what you'll get.
In addition to the standard filters like cut, carat, color, etc., Sparkly lets you search for skin tone and nail color, so you can plan ahead for the big day.
Filtering on Sparkly means you'll always get results of real rings on real hands. These are not studio shots. You'll never see a white backdrop or a standalone diamond. We built this site in hopes to help you picture what your ring would look like out in the real world.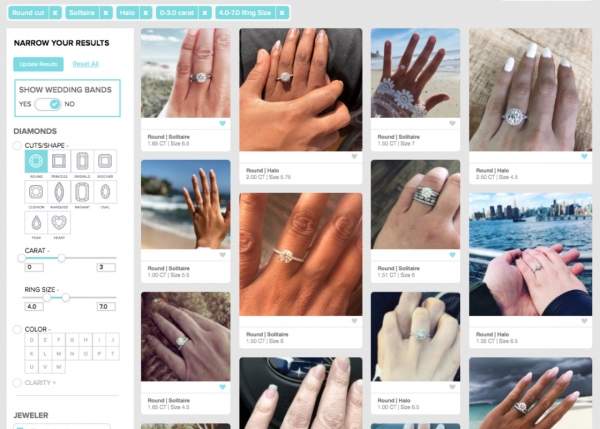 ---
Sorting
Want to see the biggest rings on Sparkly? Try sorting. Did you search by filter and want to see how 2 carat stones look on a larger ring size? Want to see how a 1.5 carat stone looks on a smaller ring size? Or see the newest posts first? Do it all, find what you want faster, with our smart sorting system.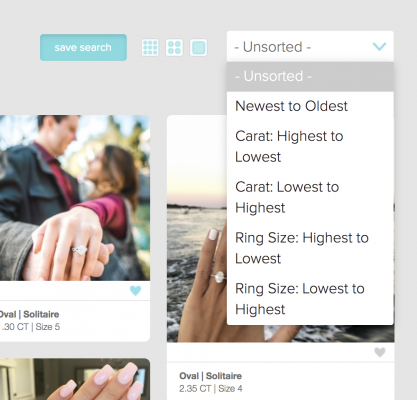 ---
Save Your Searches
Save time and brain space—once you know what you're looking for, you can save your searches and quickly find new rings that have been posted that match your search.
Whether it's a simple solitaire or a super specific cut/color/size/band you're looking for, you can always pull up a saved search to see new rings that have been added since you last checked.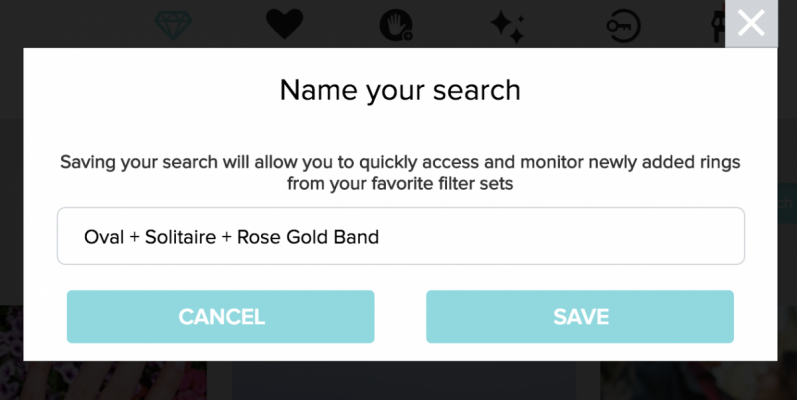 ---
Ringboxes
Stay organized and always know where to view your favorite rings with Ringboxes.
Create Rinboxes for whatever you want and name them: 4 Carats I <3, Halo Heaven, Stuff I Like But Not Sure Why…whatever you want. Ringboxes exists to help you create a virtual filing system for the rings you're interested in.

---
Post
If you have your own ring selfie, post it! Your photo could help guide the way for future brides to be.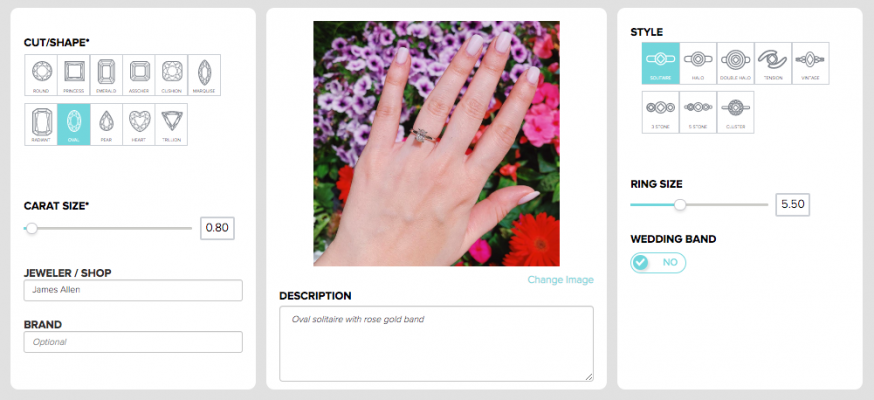 ---
The Shops
See something you like that's by one of our participating jewelers? The Shops page will help you find it. You can also view other rings designed by the same jeweler. Plus, our Shops page is organized by region, so you'll be able to view designers that are based where you live.
Sparkly is a community that's build for exploring, sharing, inspiring and ultimately, finding the perfect engagement ring. We hope these tools will make finding the right ring easier and make the proposal process an exciting, stress-free time for all.