Source: Las Vegas Review Journal
Frank, Barbara Sinatra Auction Includes 20-carat Diamond Ring
NEW YORK — More than 200 items belonging to Frank and Barbara Sinatra ranging from movie scripts to jewelry are going up for auction.
Sotheby's on Monday unveiled the contents of Lady Blue Eyes: Property of Barbara and Frank Sinatra, which will go on the block in a series of auctions in New York in December. Sotheby's says the items were gathered over the couple's 22-year marriage and portray their public and private lives.
Barbara Sinatra's 20-plus-carat diamond engagement ring, which Frank Sinatra presented to her in a glass of champagne, is among the jewelry up for bid.
Full story here.
---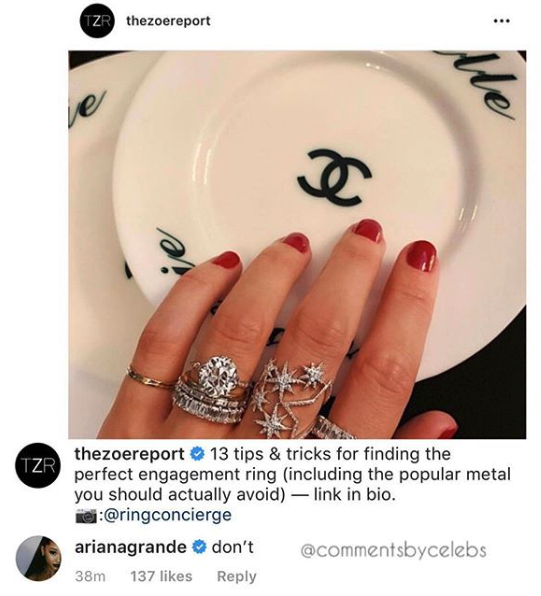 Source: The Cut
Guess How Ariana Grande Feels About Engagement Ring Shopping Now
Ariana Grande, a Cancer queen, is handling her split from ex-fiancé Pete Davidson better than most people handle being ghosted after two dates. She has returned her ridiculously expensive engagement ring, released a catchy (and respectful!) breakup anthem, and she's already making playful jokes about the institution of marriage. Yesterday, when the Zoe Report posted an Instagram about picking out "the perfect" ring for your fiancé, the 25-year-old singer couldn't help but leave a little unsolicited advice for those looking to make the ultimate commitment to their partner.
In the Instagram, a woman's hand is adorned with what appears to be seven rings, most of which are apparently engagement rings. "13 tips & tricks for finding the perfect engagement ring (including the popular metal you should actually avoid)," the caption reads. Grande, who follows the Zoe Report's Instagram and clearly has a lot of thoughts about engagements, figured she might as well toss in some concise input on how to find your partner's dream ring: "don't."
Full story here.
---
Source: Brides
Zoë Kravitz Says She Found Her Engagement Ring on Instagram
Zoë Kravitz is known for her impeccable style—and apparently, her fiancé is, too. The actress announced her engagement a couple of weeks ago to her boyfriend of two years, Karl Glusman, and she has plenty to say about her stunning ring.
In an interview with W, the bride-to-be revealed that she found her engagement ring in the same place we all look for wedding inspiration: Instagram.
When asked if she knew what her ring would look like, Kravitz revealed, "It was actually a ring I'd been kind of fawning over from afar, and a friend of mine of whispered that into Karl [Glusman]'s ear," she said. "It's from this antique dealer called The One I Love; I follow her on Instagram and would always look at her rings. There was one from the 18th century that I saved because I thought it was so beautiful, and I had no idea that my friend had told him about. So he he went the extra mile to get me something that I'd really love."
Full story here.
---
Source: Brides
Michelle Obama Got a Stunning Engagement Ring Upgrade
Michelle Obama has always held herself with grace and style, and now, a little bling! It appears the former first lady has gotten a sparkly engagement ring upgrade.
Obama, who recently celebrated her 26th wedding anniversary with Barack Obama, tied the knot in October 1992 with a yellow gold engagement ring set with a solitaire and a matching wedding band. But, as Us Weekly notes, in recent months, the ring Obama has been sporting looks very different. The new engagement ring appears to be a sizable square diamond set on a band of smaller diamonds, paired with a fully encrusted wedding band.
We don't know exactly when this new sparkler popped up, or more importantly why, but the transition from the old ring to the new one seemed to start in 2017, toward the end of her husband's presidency. Early that year she was sporting a single, thicker band on her ring finger, and in 2018 it seems she started wearing a new rock.
Full story here.