This Is the Largest Emerald-Cut Diamond in the World
Source: Brides
Remember when Jennifer Lopez got engaged and your jaw dropped at her rumored-to-be 15-carat diamond ring? You're gonna want to sit down for this one. Famed jeweler Graff just revealed the largest, highest color, highest clarity diamond ever certified by the Gemological Institute of America (GIA), and it's over 300 carats.
Named the Graff Lesedi La Rona, the ring is 302.37(!!!) carats specifically, which makes it the largest square emerald-cut diamond in the world, according to their website.
The diamond was cut from a 1,109-carat rough diamond, the second-largest diamond discovered in more than 100 years, according to WWD. If you're doing the math in your head, don't worry, the other 806.63 carats did not go to waste. Another 66 other diamonds were cut from the remaining rough diamond that range in size from under a carat to more than 100 carats.
Full story here.
---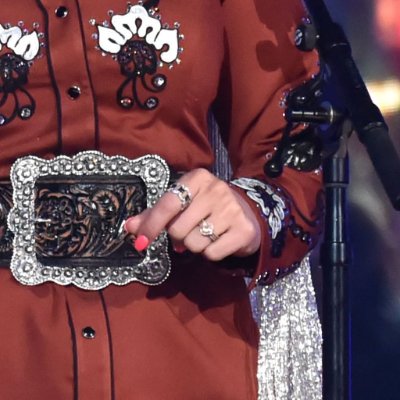 Miranda Lambert Showed Off Her Rose Gold Engagement Ring Onstage at the ACM Awards
Source: Popsugar
ICYMI, country superstar Miranda Lambert is married, and she's got the gorgeous ring to prove it! After splitting with Blake Shelton in 2015, Miranda went on to date musician Anderson East and singer Evan Felker before surprising us all by settling down with NYPD officer Brendan McLoughlin in February 2019. While she announced her marriage to Brendanover a month ago, Miranda hadn't worn her engagement ring out in public until now — and just look at those diamonds!
Miranda attended the Academy of Country Music Awards and we finally caught a glimpse of her vintage rose gold ring. Set with a pink diamond in the center, the ring is surrounded in a halo of what look to be pavé diamonds and diamond-encrusted bands stacked on either side of the ring. Nice choice, Brendan!
Full story here.
---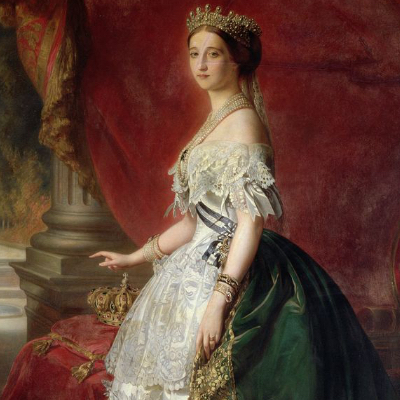 A 40-Carat Diamond Ring with Ties to the French Royal Family Was Just Recovered by Police in Paris
Source: Town & Country
French police have recovered a historic 40-carat diamond ring that was stolen last week. The Paris newspaper Le Parisien reported that the piece of jewelry, which belongs to Countess Olympia von Arco Zinneberg, fiancée of Prince Jean Christophe Napoleon, had been taken, along with a computer and some personal papers, out of a car parked in the 6th arrondissement. The couple assisted the police in the recovery.
The diamond is called a Bonaparte diamond, and once lived at the heart of Empress Eugenie's crown. It is one of the few surviving royal jewels to have remained in the country. "It is amazing that the diamond in question has remained in the family of Eugénie's descendants," says esteemed rare jewelry dealer Lee Siegelson.
Full story here.
---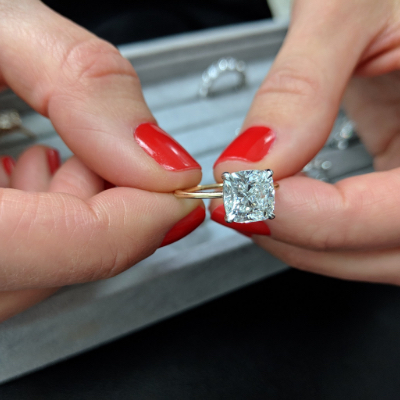 Here's What You Need to Know About Insuring an Engagement Ring
Source: Business Insider
Purchasing an engagement ring is often a big financial decision.
Though engagement rings can range in cost from hundreds to thousands of dollars, it's a good idea to purchase insurance as one of the first matters of business. Here's what you should know about how to insure your engagement ring.
Find the best provider and policy for you
"Insurance is very important," says Peter Meksian, CEO of Michael M, a Los Angeles-based luxury bridal and fashion jewelry company. "Most 'home' insurance policies cover jewelry and watches to a certain amount. If you do not have a homeowner's or renter's insurance policy, you can always get an insurance policy from Jewelers Mutual, who specialize in personal jewelry policies."
Full story here.