The True Story Behind Ariana Grande's New Hit, "7 Rings"
Source: Harper's Bazaar
Ariana Grande blessed the world with another bop today with her new single, "7 Rings." Whereas "Thank U, Next" shows the singer promoting self-love and growth post-breakup, her latest release shows her finding comfort in her friendships as a strong, single woman.
In case you questioned how she's holding up after her very public breakup, "7 Rings" is proof that Ari is doing great, if not better, in the company of her girls and her wealth. ("I'd rather spoil all my friends with my riches," she sings in the second verse.)
Even better, it offers a hip-hop spin on "My Favorite Things," the Rogers & Hammerstein classic sung by Julie Andrews in The Sound of Music. Grande interpolates the melody in her verses with a saucy attitude.
The Rings
In November, following Grande's split from Davidson, fans noticed the singer was wearing a new diamond ring in an Instagram photo, instead of the tear-shaped engagement ring from her ex. Two days later, she shared another picture of herself wearing the ring, with a friend wearing a similar rock. She also posted a video of her and her pals wearing diamonds in a video on her Instagram story.
Full story here.
---

Go Behind the Scenes with Jax Taylor & Brittany Cartwright's Engagement Ring Designer
Source: Bravo
Earlier this season on Vanderpump Rules, celebrity jeweler Kyle Chan (www.kylechandesign.com) made a cameo when Jax Taylor paid a visit to his Los Angeles showroom to pick up the $70,000 engagement ring he was about to present to Brittany Cartwright. We were completely captivated by the 3.14-carat double-halo sparkler Jax was preparing to slip on his bride-to-be's finger, so naturally we wanted to know more about the designer behind the bauble.
The Lookbook (along with our pal Jax Taylor) paid a visit to Kyle Chan's showroom (watch the video above to see) and we were surprised to learn just how many Bravolebrities Chan has decked in gems. Not only is Chan behind some of Kyle Richards and Lisa Vanderpump's most beautiful jewels, he also created the famous TomTom necklaces (worn by Tom Schwartz and Tom Sandoval at the TomTom restaurant opening) and the Witches of Weho friendship rings that Stassi Schroeder, Katie Maloney-Schwartz, and Kristen Doute all proudly own.
Full story here.
---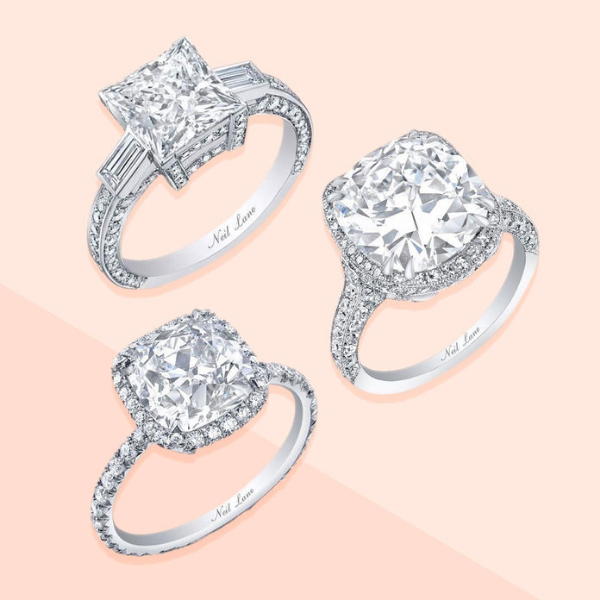 5 Simple Steps to Getting the Perfect Engagement Ring
Source: InStyle
Now that your search for that special someone is complete, it's time to start searching for the perfect ring — a pursuit that requires much time, research and teamwork. And, while it's meant to be romantic, it can also be overwhelming. But fear not! I've picked up quite a few tips in my years of designing that can help you navigate this unfamiliar territory. With these five easy steps to choosing a ring, you'll be on your way to happily ever after in no time.
1. Decide How Much to Spend
Historically, the "rule" has been that the one proposing should spend approximately three months' salary on an engagement ring. But that was then, and this is 2018. While the ring selection process was once a solo endeavor, it has over time become a task for two. What's most important is that you have an honest conversation with your partner about how much you're comfortable spending.
Talking about money can be tricky, however there are a few ways to bring up your budget without putting on the pressure. First, remember that you're on the same team. Sit side-by-side, and bring up a topic you are comfortable discussing, one that's an easy transition into engagement rings; maybe a close friend has recently gotten engaged or married, or your favorite romantic comedy is on and the proposal scene is coming up.
As you ease your way into the conversation, be sure to address your current financial situation and factor in your plans for the future. Are you saving for a new home, car or special trip? Keep in mind that while this part of the process is more pragmatic, buying a ring is one of the most significant and exciting purchases of your life – so it's ok to splurge a little!
Full story here.
---
The Perfect Engagement Ring for the Unconventional Bride
Source: Who What Wear
If the engagement trends of 2018 told us anything, it's that unconventional ring styles are on the rise, and it seems 2019 will be no different. Unique center stones are one of the most prominent ring trends we've been seeing brides-to-be choose over and over again. Just in case you plan on getting engaged soon, or if you're searching for more styles to send over to your S.O. via not-so-subtle hints, you'll definitely want to check out these aquamarine engagement rings.
Sure, you could always opt for your traditional white diamond rings, or even the trending sapphire rings (whether they're traditional blue or another color), but there's something about the subtle shade of pale blue that feels undeniably beautiful. Trust us, you will truly never get tired of this style. Not to mention, your ring could also be your "something blue" during your wedding. Food for thought. As you start the search for the perfect engagement ring, we've gathered the most stylish ones featuring aquamarine that will feel as gorgeous as the woman wearing them.
Full story here.
---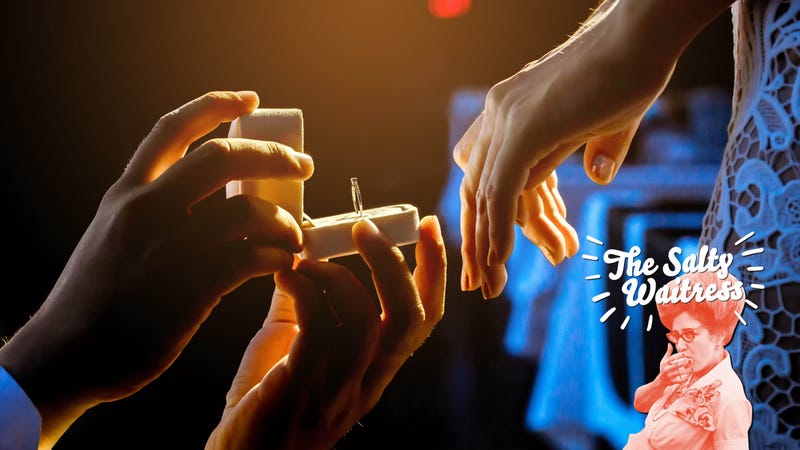 Ask The Salty Waitress: What should I consider before proposing in a restaurant?
Source: The Takeout
Have I seen a lot of restaurant proposals! I've even seen some at my own beloved diner. Some people can really get romantic over a Denver omelette and hash browns.
For you, though, I think going to your favorite swanky spot to do the deed is a lovely idea. It's a place where you have sentimental attachment, and that will likely mean a lot to your about-to-be-betrothed. Still, the restaurant proposal brings up a multitude of issues. So I talked to Jeff Witzig, manager at Topolobampo, Rick Bayless' acclaimed Mexican restaurant in Chicago, who was a font of information regarding using the restaurant setting for this particular life change. So between Jeff and myself, here's a quick guide on what to do and what not to do regarding restaurant proposals. If you only walk away with one tip, it's this: Keep the ring out of the food, buddy.
Full story here.