Source: People
Zoë Kravitz Has Been Wearing Her Engagement Ring for Months: Get a Closer Look at Her Bling
While Zoë Kravitz has been secretly engaged to actor Karl Glusman for the past eight months, the Big Little Lies actress has been subtlety wearing her diamond engagement ring without anyone knowing.
The actress, 29, flashed her sparkler on the Met Gala red carpet in May when she wore a sexy black Saint Laurent lace dress. Kravitz flaunted the ring on her Instagram as she posed before the glamorous event with the diamond on her left hand. The engagement ring was curated by The One I Love, an antique and modern jewelry store in N.Y.C., and the owner, Mia Moross, worked with Kravitz and Glusman on creating the perfect ring.
The actress chose a "extremely rare" vintage ring that is unique thanks to the size of the diamonds but it's pristine nature.
Full story here.
---
Source: Brides
Katie Holmes Sparks Engagement Rumors With Diamond Ring
Is she or isn't she? Katie Holmes is sparking rumors that she might be engaged after stepping out in New Orleans wearing a massive diamond ring on her left hand. And while the bling is very telling, it sounds like the actress, 39, may not be ready for that next step just yet.
Full story here.
---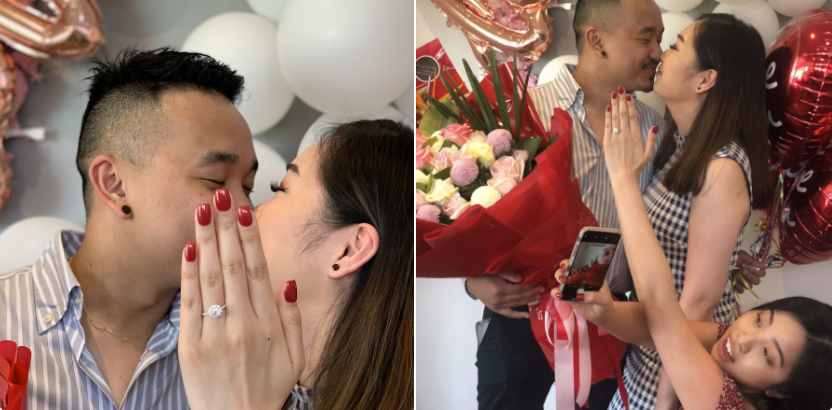 Source: Mashable
Woman Hilariously Hand Models Her Cousin's Engagement Ring in Viral Proposal Photo
A real friend is one who will drop everything to hand model your engagement ring when a surprise proposal catches you without a proper manicure.
That's the situation one Australian woman found herself in when she witnessed her cousin's boyfriend propose and had to think fast so they could still get the perfect post-proposal shot.
At first glance, the moment looks like any other engagement photo: a happy couple surrounded by balloons and flowers and, of course, a hand showing off the ring. Normal, right?
But what the original photo doesn't show is the now bride-to-be's cousin elaborately contorting herself into position so she can hand model the ring instead.
Full story here.
---

Source: Nerd Wallet
Engagement Rings and Credit Cards: a Rewarding Match
Brace yourselves: The Thanksgiving-to-Valentine's-Day #ringselfie parade is coming to Instagram. Are you planning to contribute by buying a sparkly engagement ring for the one you love?
You're in good company, because the holiday season is a popular time to propose. And while we can't teach you about the merits of colorless vs. near-colorless diamonds when you're figuring out how to buy an engagement ring, we can help you consider which credit card will make one of the most monumental purchases of your life that much sweeter.
Why even think about credit cards when you're still debating whether to pop the question on a Jumbotron? Because it's rare to spend this much money in such a short time (though it is good practice for the soul-crushing expense of wedding planning), and you're going to need to strategize.
Dropping a whole paycheck at once on an engagement ring may not be possible for you. In that case, consider applying for a credit card with an introductory 0% APR period and charge the ring to that card. You'll have a nice, long, interest-free window during which you can pay off your credit card balance in more manageable amounts.
Full story here.